5 Step Switchboard Safety Check
Are you worried about the safety of your switchboard?  Use our handy checklist to see if you need to call in the experts.
Please ensure that all electrical devices are turned off at the socket before you perform this check.
Can you find the switchboard? In most homes this is located on either side wall, within a garage, or in a laundry.  If you live in an apartment, it could be in a cupboard, living room, or perhaps a kitchen.  If you can't find it, give AB Electrical a call.  If you have found it, move on to Step 2.
Are there any loose/flying cables in the switchboard that could potentially be live? Visually inspect for cables with exposed conductors or any damaged components, this should be done without removing the cover or touching the switchboard. If there are damaged components or loose wires, this is dangerous, give AB Electrical a call immediately.  If everything looks safe, move on to Step 3.
Can you find the Residual Current Device (RCD) in your switchboard? Find a device with a test button on it marked with a "T" – there are big ones and little ones.  If you can't find the RCD pictured, give AB Electrical a call and we can upgrade your Switchboard.  If you can find the RCD, move on to Step 4.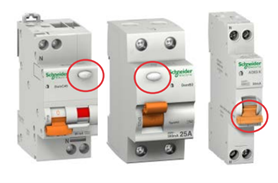 Are you RCD's in your switchboard working? Press the "T" Button on the RCD.  Does it switch off the RCD and disconnect power?  If this does not happen you will need to urgently call AB Electrical as the RCD is not working and your electrical system is not protected against electrical shocks.  If it is working, move on to Step 5.
Do you have a Surge Protection Device (SPD) installed in your switchboard? An SPD is similar to a breaker and may or may not have a lever.  If you don't have an SPD, AB Electrical can upgrade your switchboard to provide better protection for your valuable electronics against voltage spikes and surges.
If you do have a SPD and make it to Step 5 – Congratulations your home has basic protection.  AB Electrical can help you learn how to further enhance the electrical safety of your home with an Arc Fault Detection Device (AFDD).   AFDD's are important in wooden homes or those with low mobility occupants like children or the elderly.
Call AB Electrical today to discuss your Switchboard concerns. 0800 688 244