Smoke Alarms Save Lives
Smoke alarms are a lifesaver.  Daylight savings time is a good reminder to make sure your smoke alarms are working properly.
When your asleep, you lose your sense of smell.  Don't assume your smoke alarms are working.  Press the button to check.
Smoke Alarms don't last forever: they all have expiry dates and need to be replaced.   It is important to maintain smoke alarms regularly and check that they are working.
If you discover your smoke alarm is expired and needs to be replaced, the NZ Fire Service, New Building Code and Residential Tenancy Act recommends long-life photoelectric smokes alarms that rely on 10-year lithium batteries.  The inbuilt batteries last as long as the smoke alarm, so you don't need to worry about replacing them every year – you simply replace the entire smoke alarm unit once every 10 years.
The Residential Tenancy Act requires landlords to install and replace expired smoke alarms with long-life battery photoelectric smoke alarms.  There must be at least one working smoke alarm within 3 metres of each bedroom door or every room where a person sleeps.  The NZ fire service recommends a smoke alarm in every bedroom as well as the main living area.  In multi-level homes (including split levels) there must be at least one smoke alarm on each level or storey.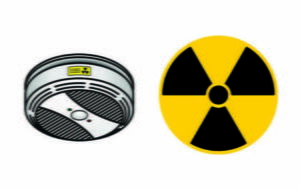 You may also have photoelectric models that use a 9-volt battery. 9-volt batteries can be tempting if you're on a budget. A 9-volt battery will last for about a year before it'll need replacing. A smoke alarm with a battery running down results in annoying "2am chirps". These always occur in the middle of the night when it's colder. The chirps are another reason why smoke alarms get taken down, or batteries get removed and not replaced.
You may have an ionisation model installed and these require a tiny amount of radioactive material to make them work. You can identify one by the radiation symbol found on the plastic body.  It is recommend to  supplement (or replace) them with photoelectric models.
We can also install photoelectric smoke alarms that are wireless and the alarms sync up – so no matter where a fire is detected, all alarms sound, giving your family vital extra minutes for evacuation.  AB Electrical can do inter-connected (wireless) and hard-wired smoke Alarms.
Have you checked your Smoke Alarms recently to see if they are safe and comply?  Talk to AB Electrical today.
Maintenance Guide
BATTERY SMOKE ALARMS
Once a month
Press the test button to sound the alarm


Tip – if you cannot reach the button easily, use a broom handle
Every 6 months
Vacuum or dust your smoke alarms to help reduce false alarms
Every year
Check the expiry date. This is usually located on the bottom or side of the alarm. If your smoke alarm does not have an expiry date on it, it is best to replace it.
Every 10 years
Replace all smoke alarms with new long-life photoelectric smoke alarms.
*If you have a replaceable battery smoke alarm, replace the battery every year. Please note: Your alarms will start to beep regularly if the battery is low.
HARD-WIRED SMOKE ALARMS
Follow the testing and maintenance schedule provided by the installer.
AB Electrical Package Deals
AB Electrical has put together a couple of packages to help you avoid the hassle and make sure you are safe and compliant starting from $199.  Our tradesmen will come and install smoke alarms in your house and make sure you are compliant.
Package 1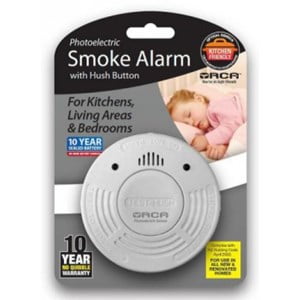 2 x Orca smoke alarms – 10 year Long Life Battery
Tradesman installation and recommendations
$199 including GST
Additional smoke Alarms $32.84 including GST
Package 2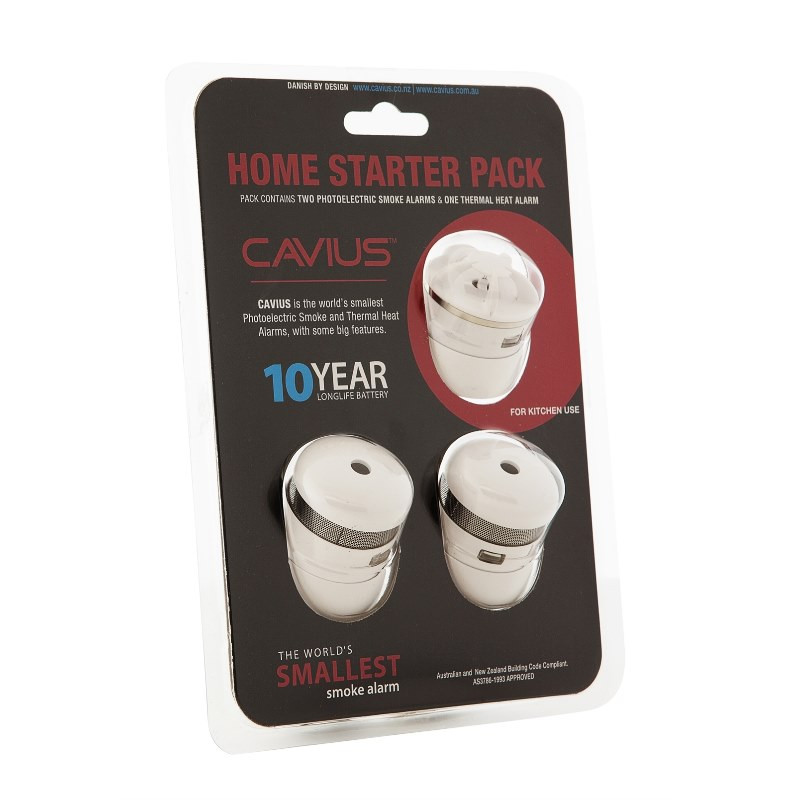 2 x Cavius (The World's Smallest) Smoke Alarms and 1 x Heat Alarm in the kitchen – 10 Year Long Life Battery.
Tradesman installation and recommendations
$279 including GST
Additional smoke alarms $45 including GST.
– 0800 688 244
T&C's – This deal is for the installation of the Smoke Alarms described in each package.  These packages will suit 3 bedroom, one level dwellings. Extra smoke alarms will be separate to this promotion.  Multi-Storey homes will need more smoke alarms than offered in these packages, our tradesman will advise.  Package deal valid Tuesday 24 September to Monday 7 October 2019.